Ayurveda Students Set Guinness Record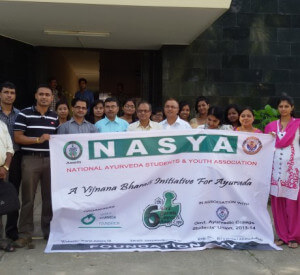 Ayurveda is going places, and so are Ayurveda students. In September 2017, 733 Ayurveda students entered the Guinness Book of World Records for most people receiving 'Nasya karma' simultaneously at the youth festival at the National Ayurveda Institute in Jaipur.
Nasya is the nasal administration of medicinal herbs, decoctions, and oils. Different types of substances are used to treat many various ailments. This therapy is most commonly indicated for dry nasal passages, hoarseness of voice, and stiffness in the head, neck and jaw area, headaches and certain eye and ear problems. It relieves mental and emotional stress, anxiety, fear, and negativity.
The 733 students from who have gathered from the various Ayurvedic colleges across the country received 'Nyasa Karm' simultaneously for seven minutes.
The official adjudicator of the Guinness Book of World Record, Swapnil Dangarikar, gave away the certificate and mentioned that the feat of the students was impressive.
Branolia Chemical Works lauds the effort of the Ayurveda students and their unique effort in bringing Ayurveda once again to the world map. Branolia's ayurvedic products namely Branolia, Kulerron, Bitocough, Honey Guard, Livonia is made with the same zeal and exacting standards as what the students of the Ayurveda colleges demonstrated when setting the world record.