AYUSH Industry Taking India to the World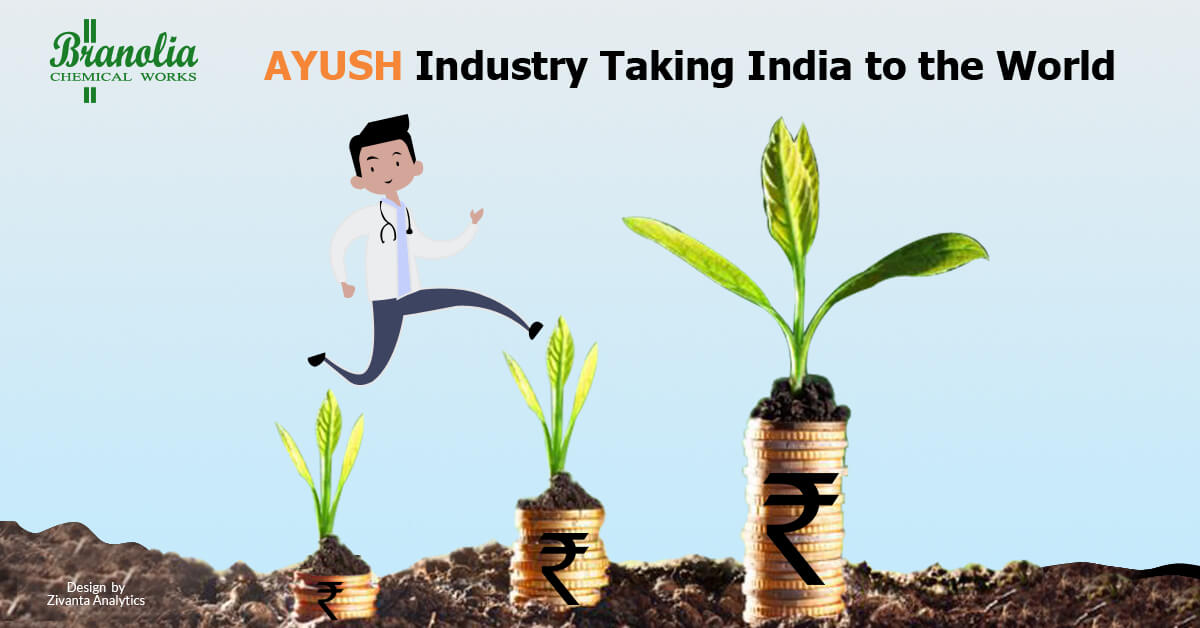 Home to 6,600 medicinal plants, India is the second largest exporter of AYUSH and herbal products in the world. The Indian domestic market for AYUSH is estimated at Rs. 500 crores, and exports are worth Rs. 200 crores. The AYUSH industry is expected to see a double-digit growth and by 2020 provide direct employment to 1 million people directly and indirect jobs to about 25 million persons.
In recognition of the potential of AYUSH being a major driver of the Indian economy has allowed 100 percent foreign direct investment (FDI) in AYUSH. It is now for the stakeholders in AYUSH namely the practitioners, pharma companies, AYUSH academia and AYUSH researchers and others to ensure that AYUSH reaches its full potential both in India and abroad.
We at Branolia Chemical Works for last 95 years have had consistent faith in AYUSH. A product of the Indian Independence movement, Branolia Chemical Works entered into the foray of Ayurvedic formulations when the overall public sentiment was skewed towards allopathic medicine. We have been a witness to of how slowly but surely the public sentiments and acceptability of AYUSH as an alternative curative approach has found traction. We are also thankful to our farmers who have taken to growing medicinal plants organically.
We at Branolia congratulate the AYUSH practitioners, AYUSH academia and the government for bringing up this perceptible change. The setting up of AYUSH ministry by the Government of India was a big step in mainstreaming AYUSH. Further, the present initiative of the Government of mainstreaming AYUSH practitioners into the modern medical system through a bridge course is something we applaud.
We at Branolia Chemical Works have constantly tried to bring newer products at very reasonable prices to bring the goodness of Ayurveda to the people and also provide effective formulations in the hands of the practitioners. Our newest formulation Kulleron, based on Kulekhara (H.Spinosa) has proven highly effective to counter anemia.
We will always walk with the AYUSH community and do whatever possible to see that AYUSH reaches its full potential as a curative method and as well as the driver of the Indian economy.
Branolia Chemical Works stands in solidarity with the AYUSH community. Can we count on you as well!
[supsystic-social-sharing id="1"]