Civil Engineering: Play a Role in Building the Nation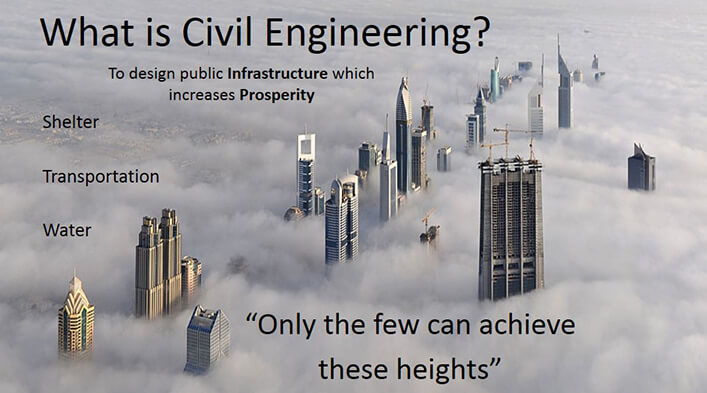 Civil engineering is the oldest forms of engineering. The first act of civil engineering can be traced back to ancient times when the first house was built or a tree trunk was laid across a river to construct a bridge. A civil engineer's jobs is to design, construct and maintain roads, bridges, airports, tunnels, buildings, dams, water supply systems, sewerage systems, hydro-electric projects and pretty much everything that constitutes infrastructure. In fact, some of the greatest wonders of the modern world like the Pearl Bridge in Japan, the Beijing National Stadium, the underwater tunnel under the English Channel or the Millau Viaduct, which spans across the valley of the River Tarn near Millau in southern France, are all products of high-quality civil engineering.
Job description for Civil Engineers:
Civil engineers can either be playing the role of a consultant where they have to advise on and design a project or that of a contractor where their role is to execute construction activities. This would involve planning requirements with clients, designing the project and blueprints using computer aided design, undertaking feasibility tests, assessing environmental risks and impact, preparing bids for tenders, managing the process at each stage and ensuring that work happens smoothly and is completed by the deadline.
As a civil engineer, your job is going to take you to construction sites or manufacturing facilities which mean that you have to spend a lot of time outdoors. Sometimes it means spending entire days at the site of work and several days away from home. You might also need to travel to remote areas for certain projects. Work hours can get longer as the deadline approaches. Also, a civil engineer's job being on-site and hands-on, one needs to take safety precautions in terms of helmets or masks to protect against falling objects or dangerous chemicals.
Employment opportunities for Civil Engineers:
In India, the demand for civil engineers is huge and is expected to go up even further. One of the chief reasons is that India is one of the fastest growing economies in the world and the Government has plans to spend billions of dollars on infrastructural development, be it highways, airports, ports and power plants. For this purpose, civil engineers are hired by state and central government agencies. A big opportunity for civil engineers also exists in the private sector which mostly invests in residential and commercial complexes. In fact, India faces a shortage of civil engineers and hence there is a requirement of good quality professionals.
Where to study Civil Engineering:
You can either go for a diploma or degree course in civil engineering. The diploma courses are for those who have passed the 10th standard. If you pass your 12th standard with physics, chemistry and mathematics, you can sit for the engineering entrance examinations conducted at a state or at a national level. A good score will make you eligible for applying to the better colleges. Apart from the Indian Institute of Technology (IITs), other reputed colleges like the National Institutes of Technology (NITs), Birla Institute of Technology and Science, Pilani, Birla Institute of Technology, Mesra, College of Engineering, Pune, Thapar University, Punjab and Jadavpur University, Kolkata are some of the most reputed institutions offering a degree in civil engineering.
Pay packages for Civil Engineers:
Fresher salaries can be as less as Rs 1.2 lakh per year going up to 5 lakh per year or more depending on the college you have passed out from. People with 8-10 years of experience can command a salary upwards of 10 lakh per year.
Is Civil Engineering right for you?
If you have a good knowledge of mathematics and science and are excited by traditional engineering, then a career in civil engineering is for you. A career in civil engineering is very rewarding as it embodies a spirit of teamwork that comes from creating something together and solving problems of the society at large.
[supsystic-social-sharing id="1"]