Researchers Recommend Tulsi to Combat Lifestyle Related Chronic Diseases
Applause for Tulsi(Ocimum sanctum Linn)  from the Ayurveda research community is becoming more and more pronounced with a number of journal papers attesting Tulsi's ability to battle lifestyle disease resulting from physical, chemical, metabolic and psychological stress through a unique combination of pharmacological actions (1).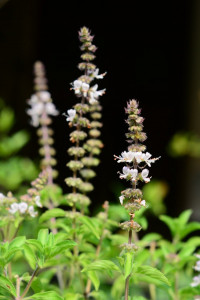 Tulsi has been attested to protect organs and tissues against chemical stress from industrial pollutants and heavy metals. Lab results and trials show that Tulsi has protected against the toxic effects of industrial chemicals such as butylparaben,[2] carbon tetrachloride,[3] copper sulfate[4] and ethanol,[5] and common pesticides such as rogor,[6] chlorpyrifos[7], endosulfan[8] and lindane[9]. Tulsi has also been shown to protect against the toxic effects of many pharmaceuticals drugs including acetaminophen [10], meloxicam[11], paracetamol[12], haloperidol[13] and anti-tubercular drugs[14].
Tulsi is also credited with giving brightness to the complexion, mellifluousness to the voice and help foster stamina and a calm emotional disposition. In addition, tulsi is recommended as a treatment for a range of conditions including anxiety, cough, asthma, diarrhea, fever, dysentery, arthritis, eye diseases, otalgia, indigestion, hiccups, vomiting, gastric, cardiac and genitourinary disorders, back pain, skin diseases, ringworm, insect, snake and scorpion bites and malaria[15,16,17,18].
Tulsi helps in prevention of cancers caused by toxic compounds by reducing DNA damage[19] and inducing apoptosis in precancerous and cancerous cells, thereby reducing the growth of tumors[20,21].Tulsi also enables the enhancement in liver detoxification enzymes such as the cytochrome P450 enzymes, which deactivates toxic chemicals and enables them to be safely excreted[22].
Tulsi has radioprotective effects by cleaning free radicals and reducing the oxidative cellular and chromosomal damage brought about by radiation,[23,24,25,26] enabling reduction of organ damage and enhancing post-radiation survival in experimental animals[27,28,29].
Numerous animal experiments and human clinical trials have shown that tulsi has anti-diabetic activity. Tulsi can reduce blood glucose, correct abnormal lipid profiles[30,31] and protect the liver and kidneys from the metabolic damage caused by high glucose levels[32]. Tulsi has also been shown to improve lipid profiles[33,34], prevent weight gain, hyperglycemia, hyperinsulinemia, hypertriglyceridemia, and insulin resistance[35,36], and protect the organs and blood vessels from atherosclerosis[32,37] in laboratory animals fed high-fat diets. Similarly, in human clinical trials, tulsi has shown to decrease glucose levels, improve blood pressure and lipid profiles[38,39,40] and reduce many diabetic symptoms in patients with type 2 diabetes.[41]
There are many more benefits from Tulsi which scientific studies have verified which we will be discussed in subsequent Branolia Chemicals blog posts.
At Branolia Chemical Works we stand by Tulsi and it is used extensively in all our Ayurvedic formulations may that be Bitocough , Branolia, Honey Guard, Kulleron and Livonia. We at Branolia prefer the black/purple variety of Tusli in our ayurvedic formulas. This is done since the black/purple tulsi has high content of phenolic compounds and anti-oxidant properties compared to the green/white vana tulsi(42).
References:
Cohen, Marc Maurice, Tulsi – Ocimum sanctum: A herb for all reasons, J Ayurveda Integr Med. 2014 Oct-Dec; 5(4): 251–259.
Shah K, Verma RJ. Protection against butyl p-hydroxybenzoic acid induced oxidative stress by Ocimum sanctum extract in mice liver. Acta Pol Pharm. 2012;69:865–70. 
Enayatallah SA, Shah SN, Bodhankar SL. A study of hepatoprotective activity of Ocimum sanctum (Krishna tulas) extracts in chemically induced liver damage in albino mice. J Ecophysiol Occup Health. 2004;4:89–96.
Shyamala AC, Devaki T. Studies on peroxidation in rats ingesting copper sulphate and effect of subsequent treatment with Ocimum sanctum. J Clin Biochem Nutr. 1996;20:113–9.
Bawankule DU, Pal A, Gupta S, Yadav S, Misra A, Rastogi S, et al. Protective effect of Ocimum sanctumon ethanol-induced oxidative stress in Swiss Albino Mice brain. Toxicol Int. 2008;5:121–5.
Verma P, Kedia DK, Nath A. Protective effect of Ocimum sanctum leaf extracts against rogor induced ovarian toxicity in Clarias batrachus Linn. J Ecophysiology Occup Health. 2007;7:177–84.
Khanna A, Shukla P, Tabassum S. Role of Ocimum sanctum as a genoprotective agent on chlorpyrifos-induced genotoxicity. Toxicol Int. 2011;18:9–13. 
Bharath BK, Anjaneyulu Y, Srilatha C. Imuuno-modulatory effect of Ocimum sanctumagainst endosulfan induced immunotoxicity. Vet World. 2011;4:25–7.
Mediratta PK, Tanwar K, Reeta KH, Mathur R, Benerjee BD, Singh S, et al. Attenuation of the effect of lindane on immune responses and oxidative stress by Ocimum sanctum seed oil (OSSO) in rats. Indian J Physiol Pharmacol. 2008;52:171–7.
Makwana M, Rathore HS. Prevention of hepatorenal toxicity of acetaminophen with Ocimum sanctumin mice. Int J Pharm Technol. 2011;3:1385–96.
Mahaprabhu R, Bhandarkar AG, Jangir BL, Rahangadale SP, Kurkure NV. Ameliorative effect of Ocimum Sanctum on meloxicam induced toxicity in wistar rats. Toxicol Int. 2011;18:130–6.
Lahon K, Das S. Hepatoprotective activity of Ocimum sanctumalcoholic leaf extract against paracetamol-induced liver damage in Albino rats. Pharmacognosy Res. 2011;3:13–8. 
Pemminati S, Nair V, Dorababu P, Gopalakrishna HN, Pai MR. Effect of ethanolic leaf extract of Ocimum sanctumon haloperidol-induced catalepsy in albino mice. Indian J Pharmacol. 2007;39:87–9.
Ubaid RS, Anantrao KM, Jaju JB, Mateenuddin M. Effect of Ocimum sanctum(OS) leaf extract on hepatotoxicity induced by antitubercular drugs in rats. Indian J Physiol Pharmacol. 2003;47:465–70.
Singh N, Hoette Y, Miller R. Tulsi: The Mother Medicine of Nature. 2nd ed. Lucknow: International Institute of Herbal Medicine; 2010. pp. 28–47.
Mohan L, Amberkar MV, Kumari M. Ocimum sanctum linn. (TULSI)-an overview. Int J Pharm Sci Rev Res. 2011;7:51–3.
Pattanayak P, Behera P, Das D, Panda SK. Ocimum sanctum Linn. A reservoir plant for therapeutic applications: An overview. Pharmacogn Rev. 2010;4:95–105. 
Mondal S, Mirdha BR, Mahapatra SC. The science behind sacredness of Tulsi (Ocimum sanctum Linn.) Indian J Physiol Pharmacol. 2009;53:291–306. 
Siddique YH, Ara G, Beg T, Afzal M. Anti-genotoxic effect of Ocimum sanctumL. extract against cyproterone acetate induced genotoxic damage in cultured mammalian cells. Acta Biol Hung. 2007;58:397–409.
Jha AK, Jha M, Kaur J. Ethanolic extracts of Ocimum sanctum, Azadirachta indicaand Withania somnifera cause apoptosis in SiHa cells. Res J Pharm Biol Chem. 2012;3:557–62.
Manikandan P, Vidjaya Letchoumy P, Prathiba D, Nagini S. Combinatorial chemopreventive effect of Azadirachta indica and Ocimum sanctumon oxidant-antioxidant status, cell proliferation, apoptosis and angiogenesis in a rat forestomach carcinogenesis model. Singapore Med J. 2008;49:814–22. 
Rastogi S, Shukla Y, Paul BN, Chowdhuri DK, Khanna SK, Das M. Protective effect of Ocimum sanctumon 3-methylcholanthrene, 7,12-dimethylbenz (a) anthracene and aflatoxin B1 induced skin tumorigenesis in mice. Toxicol Appl Pharmacol. 2007;224:228–40.
Joseph LJ, Bhartiya US, Raut YS, Hawaldar RW, Nayak Y, Pawar YP, et al. Radioprotective effect of ocimum sanctum and amifostine on the salivary gland of rats after therapeutic radioiodine exposure. Cancer Biother Radiopharm. 2011;26:737–43.
Uma Devi P, Ganasoundari A, Vrinda B, Srinivasan KK, Unnikrishnan MK. Radiation protection by the Ocimum flavonoids orientin and vicenin: Mechanisms of action. Radiat Res. 2000;154:455–60.
Reshma K, Rao AV, Dinesh M, Vasudevan DM. Radioprotective effects of ocimum flavonoids on leukocyte oxidants and antioxidants in oral cancer. Indian J Clin Biochem. 2008;23:171–5.
Bhartiya US, Joseph LJ, Raut YS, Rao BS. Effect of Ocimum sanctum, turmeric extract and vitamin E supplementation on the salivary gland and bone marrow of radioiodine exposed mice. Indian J Exp Biol. 2010;48:566–71. 
Monga J, Sharma M, Tailor N, Ganesh N. Antimelanoma and radioprotective activity of alcoholic aqueous extract of different species of Ocimum in C (57) BL mice. Pharm Biol. 2011;49:428–36.
Uma Devi P, Ganasoundari A, Rao BS, Srinivasan KK. In vivoradioprotection by ocimum flavonoids: Survival of mice. Radiat Res. 1999;151:74–8. 
Nayak V, Devi PU. Protection of mouse bone marrow against radiation-induced chromosome damage and stem cell death by the ocimum flavonoids orientin and vicenin. Radiat Res. 2005;163:165–71.
Ahmad MZ, Ali M, Mir SR. Anti-diabetic activity of Ocimum sanctum L. roots and isolation of new phytoconstituents using two-dimensional nuclear magnetic resonance spectroscopy. J Pharmacogn Phytother. 2012;4:75–85.
Singh PK, Baxi D, Banerjee S, Ramachandran AV. Therapy with methanolic extract of Pterocarpus marsupium Roxb and Ocimum sanctum Linn reverses dyslipidemia and oxidative stress in alloxan induced type I diabetic rat model. Exp Toxicol Pathol. 2012;64:441–8. 
Suanarunsawat T, Songsak T. Anti-hyperglycaemic and anti-dyslipidaemic effect of dietary supplement of white Ocimum Sanctum Linnean before and after STZ-induced diabetes mellitus. Int J Diabetes Metab. 2005;13:18–23.
Suanarunsawat T, Ayutthaya WD, Songsak T, Thirawarapan S, Poungshompoo S. Lipid-lowering and antioxidative activities of aqueous extracts of Ocimum sanctum L. leaves in rats fed with a high-cholesterol diet. Oxid Med Cell Longev. 2011;2011:962025. 
Dahiya K, Sethi J, Dhankhar R, Singh V, Singh SB, Yadav M, et al. Effect of Ocimum sanctum on homocysteine levels and lipid profile in healthy rabbits. Arch Physiol Biochem. 2011;117:8–11.
Reddy SS, Karuna R, Baskar R, Saralakumari D. Prevention of insulin resistance by ingesting aqueous extract of Ocimum sanctum to fructose-fed rats. Horm Metab Res. 2008;40:44–9.
Suanarunsawat T, Ayutthaya WD, Songsak T, Rattanamahaphoom J. Anti-lipidemic actions of essential oil extracted from Ocimum sanctum L. leaves in rats fed with high cholesterol diet. J Appl Biomed. 2009;7:45–53.
Samak G, Rao MS, Kedlaya R, Vasudevan DM. Hypolipidemic efficacy of Ocimum sanctumin the prevention of atherogenesis in male albino rabbits. Pharmacologyonline. 2007;2:115–27.
Agrawal P, Rai V, Singh RB. Randomized placebo-controlled, single blind trial of holy basil leaves in patients with noninsulin-dependent diabetes mellitus. Int J Clin Pharmacol Ther. 1996;34:406–9.
Rai V, Mani UV, Iyer UM. Effect of Ocimum sanctum leaf powder on blood lipoproteins, glycated proteins and total amino acids in patients with non-insulin-dependent diabetes mellitus. J Nutr Environ Med. 1997;7:113–8.
Devra DK, Mathur KC, Agrawal RP, Bhadu I, Goyal S, Agarwal V. Effect of tulsi (Ocimum sanctumLinn) on clinical and biochemical parameters of metabolic syndrome. J Nat Remedies. 2012;12:63–7.
Kochhar A, Sharma N, Sachdeva R. Effect of supplementation of Tulsi (Ocimum sanctum) and Neem (Azadirachta indica) leaf powder on diabetic symptoms, anthropometric parameters and blood pressure of non insulin dependent male diabetics. Ethno-Med. 2009;3:5–9.
42. Wangcharoen W, Morasuk W. Antioxidant capacity and phenolic content of holy basil. Songklanakarin J Sci Technol. 2007;29:1407–15.
[supsystic-social-sharing id="1"]