District Majistrate's Wife Does What Her Husband Could Not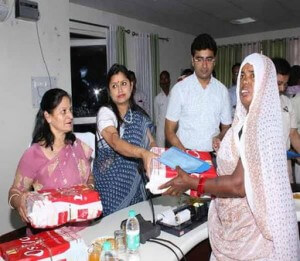 District Magistrate of Jhansi, Anurag Yadav was in a dilemma. His district had recorded 64 farmer suicides due to the destruction of the Rabi crop from inclement weather.
The situation was grim. However, the government rules which in most cases go by the letter and not by the spirit had very strict norms for compensation in wake of such tragedies. Under the government criteria, only 22 families of the farmers who had committed suicide were eligible for government compensation; the others got excluded due to technicalities. Accordingly, the State Govt of UP distributed Rs. 7.7 lakhs to the families of 22 farmers.
District Magistrate's Wife- A Change Agent
However Anurag Yadav was perturbed, he knew that despite non fulfilment of the strict compensation criteria the left out families should have received the compensation. However his hands were tied by the official rules. It was then Preeti, wife of the District Magistrate stepped in. She was clear, that while her husband was governed by the rules of the government, she as a citizen of the country could do her bit without being hindered by the government bureaucracy and rules.
The Uphill Journey of the District Magistrate's Wife
She went on the social media and using Facebook and Whatsapp made an appeal for donation for the hapless families. This was done through the Akansha Samiti, an organisation of the wives of the administrative officer. The appeal for funds brought an unprecedented response and in a fortnight a sum of Rs. 40 lakhs was collected through crowd funding. Donations from India and outside poured in. The employees and officers of the district administration donated one day salary as well.
Then in a simple function on 16 may 2015 at Vikas Bhawan, Jhansi District, Preeti distributed Rs. 1 lakh fixed deposit each to 33 farmer families whose sole bread winner was no more. The FD would earn per month an amount to Rs. 700 for each family through interest accrual.
The District Magistrate made a very telling comment " as a district magistrate I am doing my duty, my wife as a citizen of India is doing her humanitarian duty and I completely support her action".
It is a great example that a wife of an administrative officer went beyond the rule book by which their husband is governed and to do her bit as a concerned citizen.
And as the adage goes where there is a will there is a way, and Preeti walked the adage to bring succour to families who needed it the most and not just sit and criticize the government for its rules and methods.
[supsystic-social-sharing id="1"]