Dr Ganesh Rakh – Who Waives Fee If Girl Child Is Born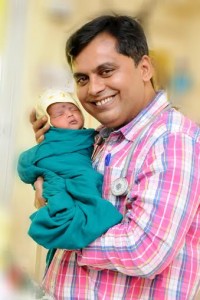 Dr Ganesh Rakh over his medical career had been witness to the disappointment in the eyes of the relatives of the woman giving birth to a girl child.
Medical doctors across India are witness to how relatives thronging to the hospital on the D-Day hug each other when a boy is born and disappear with a girl is born.  The tension on the pregnant woman for nine months is so severe and acute that you can actually see it in the fluctuations of her hemoglobin and blood pressure."
Being a doctor Dr. Rakh had been trained to ensure safe delivery, his medical training, however, had not taught him how to make the relatives welcome a girl child.
Dr Rakh wanted to change this.
Dr Ganesh Rakh's Journey
In 2007 Dr Rakh who is a son of a laborer set up in a bid to help the poorer sections of society, in 2007 set up a 25-bed Medicare General and Maternity Hospital.  On Jyotiba Phule's birthday on 3 Jan 2014, he decided to roll out a scheme, where all medical expenses and doctor fee would be waived if a woman delivers a girl child.
The staff at his hospital and the medical fraternity, in general, were aghast and termed it as a foolhardy idea. How would the hospital run its expenses? However Dr Rakh persisted, the derogation of a girl child was unacceptable to him.
and till date in over 144 deliveries, both normal and caesarean, maternity charges were not only waived off but the entire hospital celebrates the birth of the girl child by distributing sweets in the hospital.
Dr Ganesh Rakh – A Change Agent
The change has started showing. Dr Rakh's silent efforts and persistence towards altruistic goals won over other doctors and soon they also decided to join hands with him. "After the word trickled out, my batch-mates and doctors working in districts like Beed, Ahmednagar, Solapur and other interiors wrote to me and said that they will stop carrying out procedures like indiscriminate sex-determination tests or unwarranted medical termination of pregnancy. And the numbers of doctors in this long haul is growing every day."
[supsystic-social-sharing id="1"]