Dr. Aquinas – the Doctor Who Saves Lives in Odisha
Life is all about making choices, and whatever happens to us is because of the choices that we make. Dr. Aquinas, at the age of 61, chose to take on the most challenging task of her life. An age where people complain of body aches, she decided to serve the tribal people of Thuamul Rampur Block in the district of Kalahandi, in Odisha.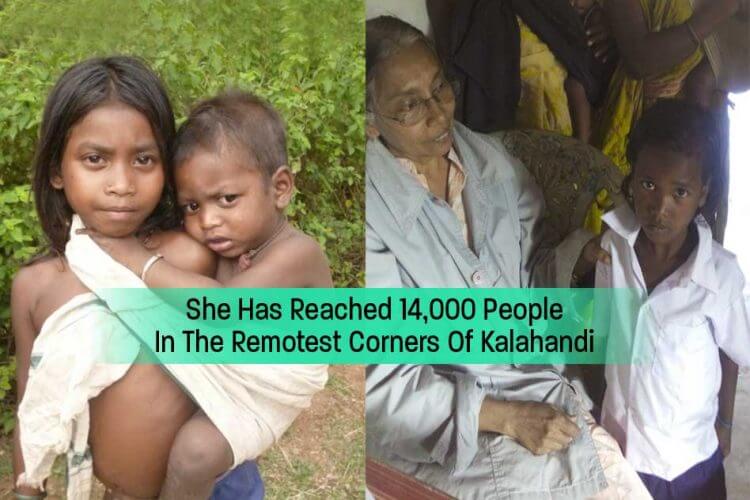 Dr. Aquinas had for long wanted to serve the people, to reach out to the masses and address their health issues. Although her decision to leave the comforts of the city life and travel to a remote place, without even the very basic amenities was indeed brave and was taken after a lot of contemplation. So after retirement, she decided to put all her efforts to the upliftment of the tribal people who lived a life of scarcity, and impoverishment.
Dr. Aquinas's Journey
Dr. Aquinas's Kalahandi journey began after a long-standing discussion and research on the condition of health care in that region. Her research brought out the dire need of a health care professional in that area. Research also revealed the disease like malaria and tuberculosis often take the shape of an epidemic and the tribal people are just silent spectators with no help available. Deaths due to disease are a common scenario and it is often considered to be a curse of the Almighty.
Dr. Aquinas decided to become a change agent. This led to the creation of her NGO, 'Swasthya Swaraj, in the town of Bhawanipatna in Odisha. She also endeavored to set up two medical centers which would provide 24×7 health care facilities to the people of the region. A laboratory was also set up to do some basic investigations. Sr. Angelina Thomas, a senior lab technician, and Sr. Biji Mery, a senior nurse, along with Dr.Aquinas moved to Thuamul Rampur in 2014.
Dr. Aquinas'- the Change Agent
The journey was by no means a cake walk. At every step, they had to face the superstitious and ignorance of the people who did not want to be treated by them. Moreover, lack of basic infrastructure made it all the more difficult for them to reach out to the people and sitting in the clinic was futile. Thus, Dr. Aquinas and her team started traveling miles and at times walked for 50km to meet patients. However, all difficulties were forgotten when they saved lives of children and adults. The team is always moving from one village to another. They also take the help of the local postman who would brief them on the health of the people of that area.
Dr. Aquinas's Dream
Dr. Aquinas also believes that every villager should become self-sufficient to look after some primary health care needs in their near vicinity. Keeping this ideology in mind, about 80 tribal girls have been trained to become primary health care providers in their respective villages. These girls are able to diagnose illness and in the case of an emergency alert the medical team. A group of 20 young men has also been trained to become healthcare communicators to educate the villagers about how to control the spread of malaria, tuberculosis, and leprosy.
Dr. Aquinas is hopeful that one day these tribal villages in the remote district of Kalahandi in Odisha will come out of the darkness and work towards living a healthy and empowered life.
Branolia Chemical Works salutes her in this endeavor to spread the message of health and happiness.
[supsystic-social-sharing id="1"]