Dr. Arunaday Mondal – The Man who Cares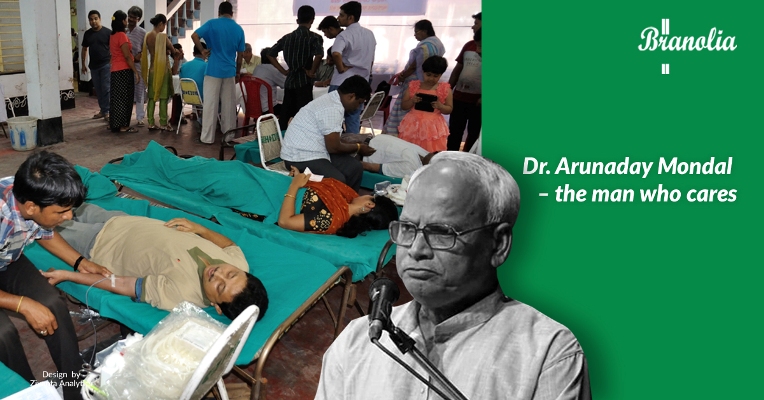 As the sky changes color from soft dove grey to light blue, a 67-year-old man with a bag in his hand boards the local train from Birati, a small town in West Bengal. He reaches a small riverside town Hasnabad and from their rides on a small boat to the remotest villages of Sunderban. Popularly called 'Sujan' by the people of Sunderban, he has been undertaking this journey for the past twenty years without fail. He is like a ray of hope to the people who eagerly wait for his arrival.
Dr. Arunoday Mondal grew up in Hingalganj, a small census town on the banks of the river Ichchamati in North 24 Parganas in West Bengal. Growing up in a poor Dalit family was not easy. From a very young age Dr. Arunaday had to work as a tutor to pay for his schooling, meals and at times even rent. After getting an MBBS degree from National Medical College and Hospital in Kolkata, he started working in Dr. B.C. Roy Memorial Hospital for Children. In the year 1980, he quit his job and opened his own clinic. This gave him the much-needed freedom to provide healthcare to the poor and the needy. Thus began his journey about forty years ago of providing medical facilities to the interior most corners of Sundarbans, where even the government health services have not been able to reach.
Dr. Mondal, however, had bigger plans to reach out to the people of Sundarbans. The growing numbers of patients made him soon realize that a fully serviceable medical center is required to reach out to the people in a bigger way. Therefore in the year 2000, he opened a healthcare center in his ancestral house at Chandanpur. In 2006, to provide modern medical facility, "Sujan Charitable Health Clinic" was set in Sundarban up to serve the local people. Dr. Mondal also realized the importance of educating the common people who would often rely on black magic to treat a person suffering from snakebite or diarrhea. Thus in 2012, he started "Kolahal", the educational assistance Center to provide educational support especially to the Adivasis living in the remotest area of Sunderbans.
Today Sujan initially made out of brick and mortar is a fully functional healthcare center, which provides facilities like specialist doctors, pathological tests, and free medicines to all the patients. Regular medical camps are organized to treat patients suffering from eye diseases, thyroid and gynecological problems as well.
Dr. Arunaday Mondal believes that receiving the Padmashree Award has increased his responsibility. He dedicated the award to the people of Sundarban and feels that it is the responsibility of every individual to give back to the society that they belong to. According to him, giving back to society is a mindset which needs to be encouraged as it is a great way to understand one's community and its people. The words of Rabindranath Tagore, "If they answer not to thy call walk alone" keep motivating him in his endeavor to give back to his homeland.
Branolia Chemical Works salutes him and wishes him the very best for his future.
[supsystic-social-sharing id="1"]