Ileana Citaristi: Orissa's Italian Daughter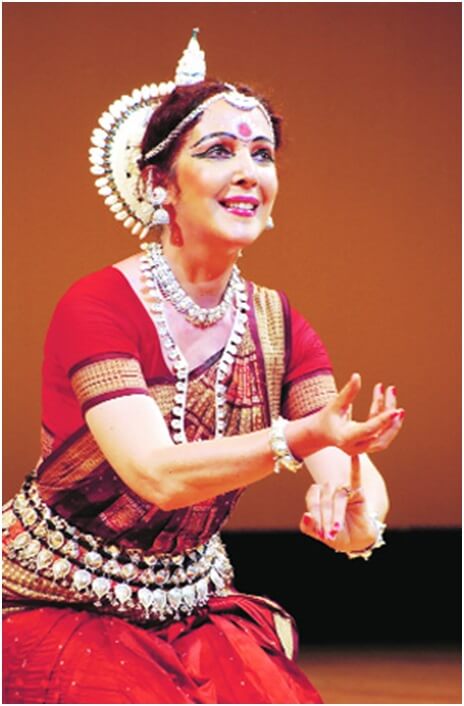 About 30 years back a wild-haired girl barely out of her teens lands in Goa, India, as a part of the hippie crowd. No one had expected that this girl would one day win a Padma award. It is a story of transformation, which Ileana in her own words describes as 'A Tale of Two Births'.
Ileana Citaristi- a born rebel
Born in a conservative Italian family with catholic beliefs, Ileana rebelled when she was 15 against the religious doctrines and wanted to search the purpose of life on her own paradigms. By 17 she joined a theatre group and also concurrently started to study Eastern Philosophy. She got acquainted to Japanese, Taoism, Buddhist and Indian philosophy. It was her need to find a meeting point of physical manifestation of philosophical thought which brought her to the shores of India. In Odissi her search ended and it became a lifelong passion of expressing the meta- physics through this dance form.
In India her first port of call was Kerala, where she spent three months of rigorous study of Kathakali. On advice of her Kathakali guru Krishnan Namboodari, she arrived to Orissa to meet the Odissi guru Kelucharan Mohapatra. In her own words Ileana describes 'I first met guru Kelucharan Mohapatra dressed in a sleeveless ganji and with my hair all wild. Guruji was bold enough to accept me". But there was a bond, Kelucharan was a tough teacher and Ileana was greedy for knowledge, and so started the journey of bringing on state one of the foremost Odissi dancer of our times. Ileana would humorously add "My Odissi guru Kelucharan Mohapatra would often wonder how perfectly conservative parents like mine could have a daughter as rebellious as me."
Ileana Citaristi's Transformation
The transformation of Illena started from a rebellious girl in her early twenties, to a person who conformed to tradition, albeit at her own terms. There were things she couldn't do at her guruji's residence like go in the puja room or the kitchen. But these restrictions stood justified in the firmament of anthropological transition. Ileana's change was slow and palpable. She cut her unruly hair, started to learn Oriya and conformed to the Oriya dietary traditions. All these changes happened with the help of Guruma. Guruma on Ileana's first appearance at her Guru's door seeing the unruly girl had loudly cried out "Ma Chandi asila" ( Ma Chandi has come). On the dance front, she was an extremely diligent student.
Along with learning Oddissi Illeana would cycle between Bhubaneswar and Cuttack to learn Odissi and Chhau simultaneously. Chaau she learnt under the tutelage of Guru Hari Nayak. So committed was she that she did not go home to Italy for six years. Citaristi had also trained under Harapriya Devi, a devadasi of Sri Jagannath temple of Puri.
The Hurdles that Ileana Citaristi Overcame
There were other obstacles as well. In Orissa, she was not accepted much in group performances because of my height. That meant she had to go solo. Her first solo was in April 1981, two years after she began learning. It was a full performance, with Kelucharan Mohapatra himself playing the pakhavaj.
With this started the journey of Ileana's adoption of India as her home. With a number of performances to her credit she began to get acceptance as a exponent in Odissi and Chhau dance forms. In 1996 she started the Art Vision Academi, which acts as a platform for sharing ideas between various artistic forms such as theatre, music, dance and painting. The Academy also conducts classes in Odissi and Chhau. She started her own dance school in 1994.
Ileana Citaristi is noted for her innovative choreographic productions which bring amalgamation of the West and the East. In Chhau, some of her path breaking performances include 'Echo and Narcissus' based on the Greek mythology, 'The Journey' that draws on the Chinese concept of Yin and Yang and 'Still I Rise' based on Maya Angelou's poem. In Odissi, 'Maya Darpan' about the history and cultural geography of Orissa, 'Karuna', based on the life of Mother Teresa and Sharanam, on how three women get salvation despite a questionable past.
She was awarded the National Film Award in 1996 for choreography for the film Yugantar, a Bengali film directed by Aparna Sen , Ileana has also choreographed for M.F. Hussain's Meenaxi: A Tale of Three Cities (2004) and Goutam Ghose's Abar Aranye (2003). Citaristi is also the author of two books. In 2001, she published The Making of a Guru: Kelucharan Mohapatra, his Life and Times and in 2012 theTraditional Martial Practices in Orissa.
She was conferred the title of ´Leonide Massine for the art of dance' in 1992. She is also a recipient of the ´Raseshwar Award' given by the Sur Singar Sansad, Mumbai. For her contributions to Odissi, she was conferred the Padma Shri by Government of India in 2006. The Italian government made her a member of the Order of the Star of Italian Solidarity in 2008.
A girl who started out as a rebel in Italy turned into a conformist in India, but on her own terms.
[supsystic-social-sharing id="1"]