Monalisa Jena – A Writer From Odisha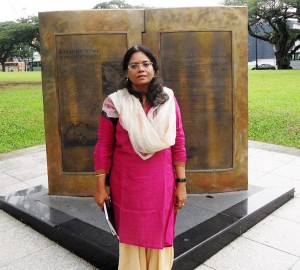 "From time to time, like a feather touch, The words that play,
Amidst the pauses in our conversation, In your eyes, in my shyness
In the letters that I wrote, And could not send, And the communication
Which could not connect you to me, Those words of our symbolic language
Which are trapped……….."
Words stitched together to form lines, lines design stanzas and stanzas build a poem. And thus, a poet is a builder, a reformer, a philosopher, a torchbearer, who guides society in its march ahead. Monalisa Jena, a writer from Odisha, as the name suggests is not only a poet but a full-time writer, specializing in poetry, short stories, novels, travel and forest-related articles, and also has been recognized for her translation work from Assamese into Odiya and from Odiya to English. She won the Central Sahitya Akademi Award-2016 for translating Arun Sharma's Assamese book into Odiya, "Ashirbadara Ranga".
Monalisa's humble beginning
Born in a middle-class family in Khurda in Odisha on 10th December 1963, this famous writer from Odisha after finishing her schooling went on to graduate in Economics from Ravenshaw College in Cuttack also in Odisha. Later on, she even completed her Masters in Business Administration from IGNOU.
Monalisa took to writing at a very early age. Her poems like, 'The forgotten language' and 'I cannot say' are heart touching. This famous writer from Odisha is often referred to as someone who is known to affect the lives of the people around her. This quality of Monalisa has made her a favorite among her fans and readers.
Monalisa has many feathers in her cap. A famous bilingual writer from Odisha, she is also an award-winning journalist.
Awards and Accolades
Monalisa Jena has won several awards.  Astorga, based on the story of an Alzheimer-afflicted old man, originally written in Assamese by Homen Boroghain which Monalisa had translated got her The Odisha Sahitya Akademi Award for Translation in 2011. Harper Collins published her English translation of contemporary Odia short stories, Dasuram's Script in 2013. She was also given a Senior Fellowship from the Department of Culture, India for her contribution in the field of Literature.
Monalisa's Work
Monalisa Jena, a famous writer from Odisha has several Odiya to English and English to Odiya translations to her credit. As a writer from Odisha, her writing revolves around the human relationships that she visualizes in her immediate surroundings. Monalisa has written two collections of short stories and three books of poems which have endeared this writer from Odisha to her readers and fans. Nargis, published by Kahani Publication in 2016 is one of her latest work which is a romantic novel.
Ramakanth Rath, her biography of poet Ramakanta Rath was published in 2009 and has already gone into a third edition.
Monalisa, the famous writer from Odisha, has also written and published a monograph based on the life and struggles of the famous Odiya artist Bipin Bihari Choudhury. Bejbaruanka Nirbachita Rachana was published by The National Book Trust of India in 2010.
Monalisa Jena has also contributed many articles in English, related to tourism and environmental issues, in several newspapers and magazines like The Telegraph, Hindustan Times, Pioneer to name a few. This famous writer from Odisha envisages on changing lives through her writing.
[supsystic-social-sharing id="1"]