'OdiyaBahu' Is Making Global News
Angul in Odisha has much to talk about including the Budhi Thakurani temple, Satkosia tiger reserve and Deulajhari hot springs amongst others. Recently it has acquired the bragging rights for another accomplishment. Nisha Desai Biswal, the bahu of Angul has been appointed the new president of the US-India Business Council (USIBC).
Previously she was the assistant secretary of State in the Obama administration and oversaw the US foreign policy and relations in regards to Bangladesh, Bhutan, India, Maldives, Nepal, Sri Lanka and various south and central Asian countries during 2013-2017.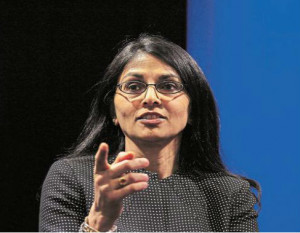 Born in 1968 in the State of Gujarat, India, Nisha Desai Biswal is the daughter of Kanu and Lata Desai, who emigrated from rural India. She is married to Subrat Biswal, with whom she has two daughters, Safya and Kaya. Nisha's parents-in-law, Nilambar and Anu Biswal whose families hail from Angul, had migrated to the US in their youth. The family is still deeply rooted in Odisha and has extended family living in Angul.
Biswal's are active members of the Odisha Society of Americas (OSA). Nisha finds Odiya very similar to Gujarati and can understand the language well. She can also speak Odiya with liberal use of Gujarati, a great example of how two states located at the opposite ends of India meet.
In her last visit to Odisha in 2015, she met Chief Minister Naveen Patnaik and explored a partnership between USA and Odisha.Nisha Biswal is a graduate of the University of Virginia, began her professional career with the American Red Cross before she joined USAID. As a staffer with the US House of Representatives International Relations Committee from 1999 to 2002, she worked extensively with diplomats from the region before doing another stint with the NGO InterAction. From 2005 to 2010, she did a stint with the State Department and Foreign Operations Subcommittee on the Committee on Appropriations in the US, a key position managing the American foreign aid.
[supsystic-social-sharing id="1"]