Scaling New Heights: How Arunima Sinha Climbed World's Tallest Peak With a Prosthetic Leg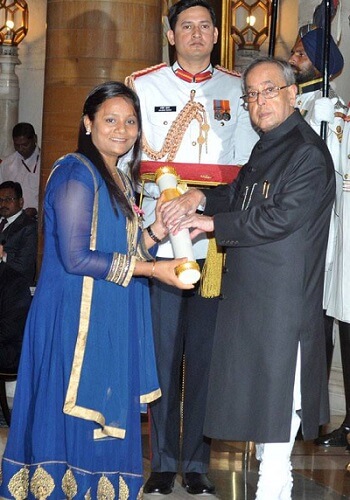 At 10.55 am on 21 May 2013, Arunima Sinha was literally standing on the top of the world. Climbing the Everest is a feat in itself but for Sinha it the achievement had more significance.
Arunima Sinha's Journey
Just about two years before that day, Sinha, a national level basketball player and a resident of Ambedkar Nagar in Uttar Pradesh, was pushed off the train by some criminals when trying to resist a chain-snatching attempt. She lay bleeding on the tracks in acute pain for a long time and thought she would die. The accident resulted in serious leg and pelvic injuries and to save her life, doctors had to amputate her left leg below the knee. Many of us would have resigned ourselves to a life in a wheelchair if such a misfortune befell us. Probably be known as an invalid for the rest of our lives. But Sinha was not one to take this serious setback in her life lying down. She decided to take this as a challenge and do the impossible. And she succeeded. Arunima became the first female amputee and the first Indian amputee to climb Mount Everest, which a lot of us who have healthy arms and limbs cannot even dream of doing.
"When I was in the hospital, everyone was worried for me, and I realized that I had to do something in my life so that people would stop looking at me with pity. I spoke to my elder brother and my coach about climbing the Everest, and they encouraged me," she said after the successful climb.
Arunima Sinha – A Change Agent
Out of the hospital, the first person she met was Bachendri Pal, the first Indian woman to climb Mt. Everest. She then did the basic mountaineering course from the Nehru Institute of Mountaineer (NIM) in, Uttarkashi, Uttarakhand. This was followed by one and a half years of rigorous training. She climbed smaller peaks and even came out from a couple of near-death experiences. But her spirit was not daunted. All this while she supported herself from a grant from NIM. It was only when Tata Steel Adventure Foundation decided to support her with a sponsorship; she knew that she was to embark on the biggest challenge in her life.
At very high altitudes even the fittest of climbers face difficulties, but for Sinha these were of a more complex nature. Her left leg was amputated and a rod was inserted in her right leg to hold it together. Every step she took pained. Initially she was slow but she did not give up. She had come too far not to succeed now. Since then Sinha, whose dream is to climb the highest peaks in each of the seven continents, has climbed the highest peaks in Africa, Europe, and Australia.
Awards and Accolades for Arunima Sinha
Now Sinha is getting the recognition she deserves. On December 12, 2014, Prime Minister Narendra Modi launched Sinha's book "Born Again on the Mountain which tells the story in her own words. On January 27, 2015 she received the Padma Shri award, the fourth highest civilian award. Noted Bollywood director Farhan Akhtar recently approached her to make a biopic on her.
In a speech delivered by Sinha on August 10, 2013 during the International Youth Conference at Vadodara, organized as a part of the 150th Birth Anniversary Celebration of Swami Vivekananda Sinha talked about a point when, only a few hundred meters from the summit, she realised that her oxygen was running out. The leader of her agency and her Sherpa both warned her to go back and save her life. But Sinha was not one to give up. It is her undying spirit that saw her to the summit and back. Once at the summit she hoisted the Indian flag and a few photos of her idol Swami Vivekananda next to it. "I do not believe in luck. Luck favours those who have the desire to win," she sums up, echoing the words of her idol who famously said that we are the creator of his own destiny. Her incredible story is a proof of that.
[supsystic-social-sharing id="1"]