The Ayurvedic Medicine for Digestion Problem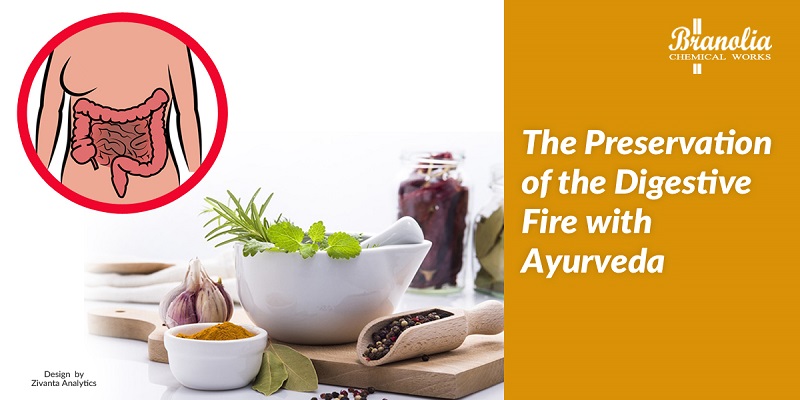 Digestion is indeed one of the most essential processes of our body. Beginning from the intake of food to the excretion of waste materials, all of these mechanisms together as a whole is defined as digestion. The malfunctioning of the digestive system gives rise to disorders like acidity and constipation. This is when Ayurveda sheds light on the reasons behind digestive problems and the concepts of AGNI (the digestive fire) and  AMA (toxins) take their shape. Dr. Vasant Lad, a veteran Ayurvedic expert based in Albuquerque, New Mexico stated his opinion about the importance of digestion in Ayurveda in an interview with the lifestyle media brand MindBodyGreen1.
In his interview, he stated how Ayurveda pinpoints the connection between digestion and AGNI.  He said that gastric fire, metabolism, and enzymes are together known as AGNI. If AGNI weakens, food would not be digested properly and undigested food would accumulate as AMA, which in other words means toxins. Ayurveda emphasizes that AMA is the underlying cause of all diseases. AMA is sticky by nature and it blocks the inner channels of the body. The accumulation of toxins in the body is responsible for weakening the immune system and that exposes people to other infections. He also mentioned how Ayurveda specifies that a mild digestive fire and profuse toxic production are the main reasons working behind frequent illnesses and that Ayurveda stresses on maintaining efficient digestion and elimination of waste materials.
Therefore, Dr. Vasant Lad's interview magnifies our outlook on how Ayurveda perceives a healthy digestive system that ensures a healthy body.
Ayurveda aims at restoring the nourishment and well-being of the body. Bellytone and Livonia, manufactured by Branolia Chemical Works, balance the Agni- Ama equation to foster a healthy metabolism within the body.
Bellytone and Livonia contain the precise herbal extracts that address digestive disorders which are frequently exhibited by the body. Bellytone contains Sonapata, Haritaki, Ajowan, and Teori which foster digestion. Livonia consists of Triphala and Kalmegh which helps in restoring the functional efficiency of the liver.
Two of the Digestive Disorders that are Consequences of a Feeble Digestive Fire are :
Constipation
Constipation is either hereditary or is caused due to a distorted food regimen. Haritaki, an Ayurvedic herb, is indeed a boon for people who have been victims of constipation. It is rich in Vitamin C and is endowed with substances that have antioxidant and anti-inflammatory effects.
Bellytone, one of the finest products of Branolia Chemical Works which is an Ayurvedic medicine for digestion, becomes an indispensable choice for us, to do away with constipation as Bellytone contains the goodness of Haritaki in it along with Sonapata, Teori, and Ajowan.
Acidity
Acidity is the burning sensation or pain experienced in the chest which generally occurs after a heavy meal.
Amla is an effective agent that subsides acidity. Amla, the Indian gooseberry is present along with Haritaki and Bibhitaki in Livonia, a liver purifying tonic manufactured by Branolia Chemical Works aimed at fostering proper liver functioning.
Thus, Branolia Chemical Works has always put its best foot forward in providing relief to the people suffering from digestive disorders with some of its promising products like Livonia and Bellytone.
MindBodyGreen1 –https://www.mindbodygreen.com/0-2784/Q-A-with-Ayurveda-Expert-Dr-Vasant-Lad.html