The Prince Dance Group from Odisha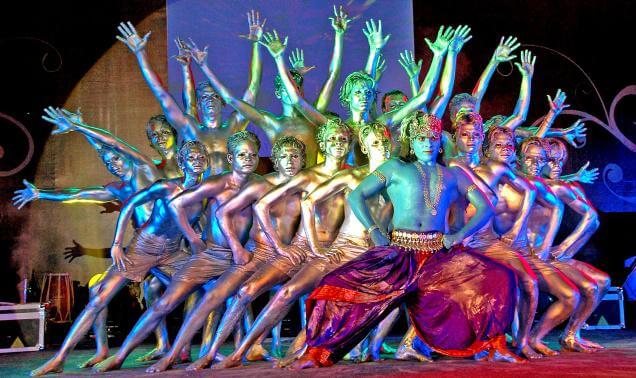 The final episode on India's Got Talent in the year 2009 changed the lives of twenty-six daily wage workers for ever. The group mesmerized the entire country by their performance is famously known as the 'Krishna Act'. Coming from a small town of Berhampore in east Odisha, the group won the hearts of millions by their performance on the event India's Got Talent. Their hard work helped them to become the winners. This young enthusiast from Odisha never looked back again. Beharmpore in Odisha had new heroes and role models.
The Prince Dance Group from Berhampore stunned the country with their performance. These twenty –six youngsters from Odisha had never received any formal training. The group comprises of mostly construction workers. Not to forget that there are two such members who are even physically challenged. The Prince Group from Berhampore in Odisha are not only appreciated for their dancing skills but also for their zeal to fight adversaries. This unique dance form is led by Krishna Mohan Reddy, who also conceptualizes all the performances that the Prince Dance Group from Odisha performs.
The Journey to the top
The Prince Dance Group has performed in the length and breadth of the country. Their journey to success was not easy. The members of the group belonged to very poor families in one of the most backward districts of Odisha. Proper education and even two square meals a day were hard to come by. Early on in their journey of life, these twenty-six youth from Odisha learned that hard work is the key to success. Their journey began when Reddy envisaged on forming a dance group.Initially, the group started with 15 boys mostly laborers. The group was adjudged the runner – up in Boogie Woogie, one of the dance shows on Sony. They won a cash award of 75,000.This gave them the boost that they needed. The Prince Group from Berhampore, Odisha never looked back.Their victory in India's Got Talent turned them into a household name.
Awards and Accolades
The Prince Dance Group was selected to represent Odisha in the opening ceremony of the Common Wealth Games in 2013. They also performed on the occasion of Odisha Divas in Chennai and on various occasions both in and outside the country. This twenty-six member team has performed twice in Dubai and has even performed in Hong Kong. Their Lord Krishna Act is the most popular.
The story of the Prince Dance Group from Odisha is a story of determination coupled with sincerity and hard work. They proved once again that with the right kind of efforts anything can be achieved.
[supsystic-social-sharing id="1"]