Uddhab Bharali: Assam's Serial Inventor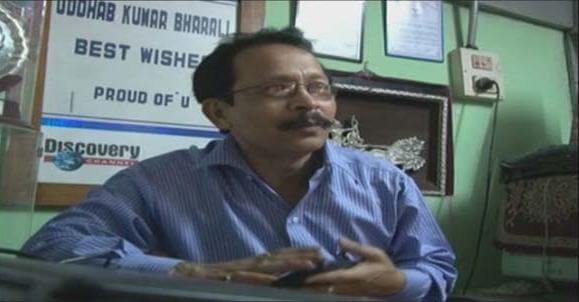 Necessity is the mother of invention, goes the common adage. For Uddhab Bharali, a serial inventor from Assam, it is a way of life. As on March 2009, this man had 118 inventions to his name. And he keeps on going.
Uddhab Bharali's Childhood
Born in North Lakhimpur, a town in North Eastern Assam, Bharali was a very bright student in school. He was often asked to stand outside the class by his mathematics teacher because he used to ask very difficult questions. He was double promoted twice in school due to his academic brilliance. Bharali passed out from school when he was 14 and went on to study mechanical engineering, but had to drop out of college in 1987 because his family could not afford the fees. After dropping out, he took up different odd jobs to earn an income but it was not enough. His father's business had failed and the family was in debt. A worsening financial situation led him to choose innovation.
Uddhab Bharali's Aspirations
He wanted to enter the polythene making business, but did not have about 4 lakh if rupees to buy a machine. So he designed and developed his own machine for a much lesser cost and sold it for Rs 67,000.This gave him confidence and began a series of innovations that would define his career. However, it took some time before his inventions were recognised. After they were covered in the press, he caught the attention of National Innovation Foundation, Ahemedabad and they got him on board as a grassroots innovator. The pomegranate de-seeder machine which he invented in 2006 was the first of its kind, not only in India, but in the whole world. In 2012 it won the second prize at the 'Create the Future Design' contest by NASA Tech Briefs magazine. Other accolades include the 'Shristi Samman Award' in 2007, 'President's Grassroots Innovation Award' in 2009, and 'Rashtriya Ekta Samman' in 2013.
Uddhab Bharali's Inventions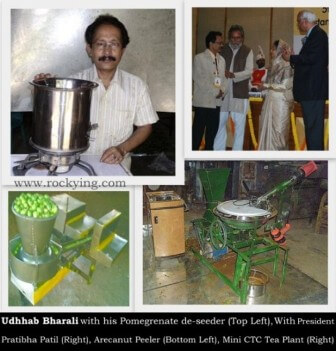 Most of Bharali's inventions are in the field of agriculture. But inside his scientific mind, lies the mind of a humanitarian. He has been financially supporting several families which have physically challenged members, paying for their medical treatment. But he also wants them to be self-sufficient. So he has devised many machines which help these people earn an income for themselves, in spite of their disabilities. Having faced acute poverty himself, Bharali knows that he has a role to play in making lives of others easier. He also selects bright students who have had little or no education and trains them in technology and innovation for a three month period. For all such activities, Bharali does not accept any money from outside sources, but funds it from his own income through research and inventions. He is also planning to set up an old-age home and orphanage in the future.
Some of the machines Bharali has invented are popular all over the world. His inventions have helped solved problems in the field of agriculture and he is known as an expert in this field. However, Bharali leads a simple life. It is not just his brilliance and his inventive genius that makes him a hero. It is the ability to use them to improve the life of others around him.
[supsystic-social-sharing id="1"]