The All India Institute of Ayurveda Inaugurated in Delhi
On occasion of Ayurveda Day on Oct 17 the Hon'ble Prime Minister dedicated to the nation All India Institute of Ayurveda (AIIA). Modelled on the pattern of AIIMS, AIIA is expected to be in the forefront of Ayurveda research in the country and facilitate synergy between the traditional system of medicine with the modern medical diagnostic and research tools/methods. This is a big step towards mainstreaming Ayurveda in modern medical science.  Some salient features of AIIA is given below for ready reference: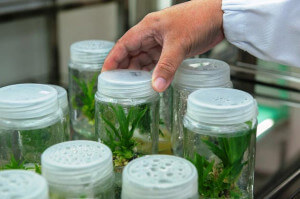 Own Campus: A state of the art campus has been built in Delhi's Sarita Vihar area on 10 acres of land with a total outlay of 157 crores. The institute has a 200-bed referral hospital attached to it. It currently has a functioning OPD and provides medicines free of cost.
Academic Program: The institute will offer postgraduate and doctoral courses in various Ayurvedic disciplines. The MD/MS and doctoral programmes have already been started
Departments: It has departments of neurology, degenerative diseases, rheumatology, musculoskeletal care unit, diabetes and metabolic/allergic disorders care unit, Yoga, Panchakarma clinic, Kriya Kalpa, Diabetic retinopathy, and infertility clinic. Once fully operational the institute is slated to have 25 Speciality departments and 12 clinics with 8 interdisciplinary research laboratories.
Laboratories: Facilities includes pathology, biochemistry, microbiology and radiology laboratories or diagnostic facilities.
Patients: The medical facilities are open to everyone needing medical care and attention through the Ayurveda medicine system. It is also expected that the facility will encourage medical tourism and provide an alternative treatment regimen for chronic health problems.
Branolia Chemical Works thanks the Hon'ble Prime Minister and the Ministry of AYUSH (Department of Ayurveda, Yoga, and Naturopathy, Unani, Siddha and Homoeopath) for the brilliant initiative of setting up an apex Ayurveda research facility.  Such a facility was sorely missed by the Ayurveda medicine industry.
Branolia Chemical Works manufactures a number of high-quality Ayurvedic medicines including Branolia, Kulleron, Honey Guard, Bellytone, Bitocough and Livonia.
[supsystic-social-sharing id="1"]