Fight Against Anaemia With Ayurveda

Anaemia is the silent epidemic in India and is largely biased against women. More than 50% of women in age group 15-49 suffer from Anaemia. About 25% of males in the same age group are afflicted. Over the years the situation has worsened. India today ranks 170 amongst 180 countries in anaemia incidence.
The gold standard for anaemia cure in Ayurveda is Kulekhara. In the entire eastern part of the country, Kulekhara is extensively used in daily diets of patients with low haemoglobin count in blood. This traditional proven medicinal knowledge about the medicinal powers of Kulekhara has been assimilated in the Kulekhara tonic as a potent anaemia medicine.
Research shows that Kulekhara leaf contains 7.03 mg/100 gms, the highest iron content amongst any herb known to Ayurveda. It also has high concentration of copper, calcium and potassium. Kulerron not only has Kulekhara leaf extract, it also has extract from the Kulekhara root which has high concentration of Phytosterol, Potassium Salt of Oxalic Acid, Diastase and Protease , extremely beneficial for human health.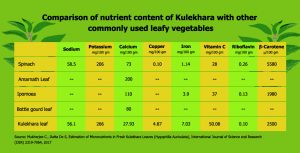 Branolia's Kulerron  is fortified with other ayurvedic herbs like Ashwagandha, Biranga, Pipul, Nagkesar to serve as a very useful anaemic medicine.
The anaemia reducing medicine Kulerron has helped thousands by increasing haemoglobin level in blood system in a the natural way and acts as a haemoglobin increaser agent in human  body .
Consumption of Kulerron , the anemia reducing ayurvedic medicine has no side effects. Also, it does not lead to constipation unlike most iron supplements.
Kulerron can be consumed by people of all ages but it is especially useful for women and girls in their growing up stage. It can also be consumed by people suffering from anemia, overall fatigue, weakness, shortness of breath, and poor appetite.
Kulerron is manufactured in a GMP certified facility and has the assurance from House of Branolia, the 100 year old Ayurvedic Company from Bengal. We at Branolia remain committed to the national fight against Anaemia. We have extended the availability of  Kulerron across the country through our online store (https://www.branoliachemicals.com/buy-now/).
[supsystic-social-sharing id="1"]