Is ANEMIA becoming Endemic in INDIA & It's Ayurvedic Remedy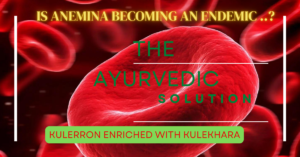 Anemia
MAYO CLINIC ,world 's one of the most elevated academic and  medical centre, USA,  has defined Anemia as  "a
condition in which you lack enough healthy red blood cells to carry adequate oxygen to your body's tissues."
The most common form of anemia is caused due to  deficiency of iron in body.
Present Scenario in India
According to India's National Family Health Survey (NFHS)–V (2019-21), the prevalence of Anemia among  children
aged 6 to 59 months is 67%, women aged 15 to 49 years is 57%,and  adolescent girls aged 15-19 years is 59%.
Anaemia in Women & Adolescent children is a very serious burden that India has been facing and the situation
has worsened in the past 5-6 years across all Indian States and Union territories(Ref: National Family Health
Survey (NFHS) 2019-20, carried out by the Union Ministry of Health and Family Welfare.)
According to The Global Nutrition Report ,which  gives  the world's leading independent assessment of the
state of global nutrition, India ranked 170 out of 180 countries for anemia among women(   Ref: Global Nutrition Survey, 2016).
Why is Anaemia so high in the country?
Anemia is  one such disease which has been a common public health problem in India  more due to the fact of
malnutrition and social behavioural pattern that has prevailed in  the country for a long time. This Nutritional
anemia is primarily due to iron deficiency which is more common among rural population. Among women, iron
deficiency prevalence is higher than men due to menstrual iron losses and the high iron demands of a growing foetus
during pregnancies.
Lancet, the World Leading Medical Journal reveals  that despite increased food sufficiency and security in India,
malnutrition continues to remain one of the most serious public health challenges (Ref: Lancet, report Published
 on July 2020 –"The burden of child and maternal malnutrition and trends in its indicators in   the  states of
India": the Global Burden of Disease Study 1990–2017. ( by Swaminathan S, Hemalatha R, Pandey A ,et al)
Ayurveda can help:
Branolia Chemical Work's Ayurvedic medicine Kulerron brings the goodness of Kulekhara (Hygrophila Spinosa)
leaf which is the best-known antidote in Ayurveda against iron deficiency in the blood and  acts as Hemoglobin
enhancer. Branolia's Kulerron  is fortified with other ayurvedic herbs like Ashwagandha, Biranga, Pipul, Nagkesar to
serve as a very effective anaemic medicine.
The anaemia reducing medicine Kulerron has helped thousands by increasing haemoglobin level in blood system in a
the natural way and acts as a haemoglobin increaser agent in human  body .
Kulerron when used on a regular basis, helps greatly to fight  anemia by increasing hemoglobin and boost immunity
without any adverse side effects. Also, it does not lead to constipation unlike most iron supplements.
Kulerron can be consumed by people of all ages but it is especially useful for women and girls in their growing up
stage. It can also be consumed by people suffering from anemia to reduce overall fatigue, weakness, shortness of
breath, and poor appetite.
Kulerron is manufactured in a GMP certified facility and has the assurance from House of Branolia, the 100 year old
renowned Ayurvedic Company from Bengal. We at Branolia remain committed to the national fight against Anaemia
and have extended the availability of our  anemic medicine  Kulerron across the country through online sale at a very
reasonable price  (https://www.branoliachemicals.com/buy-now/).