Ministry of AYUSH Signs MoU to Promote Medicinal Herbs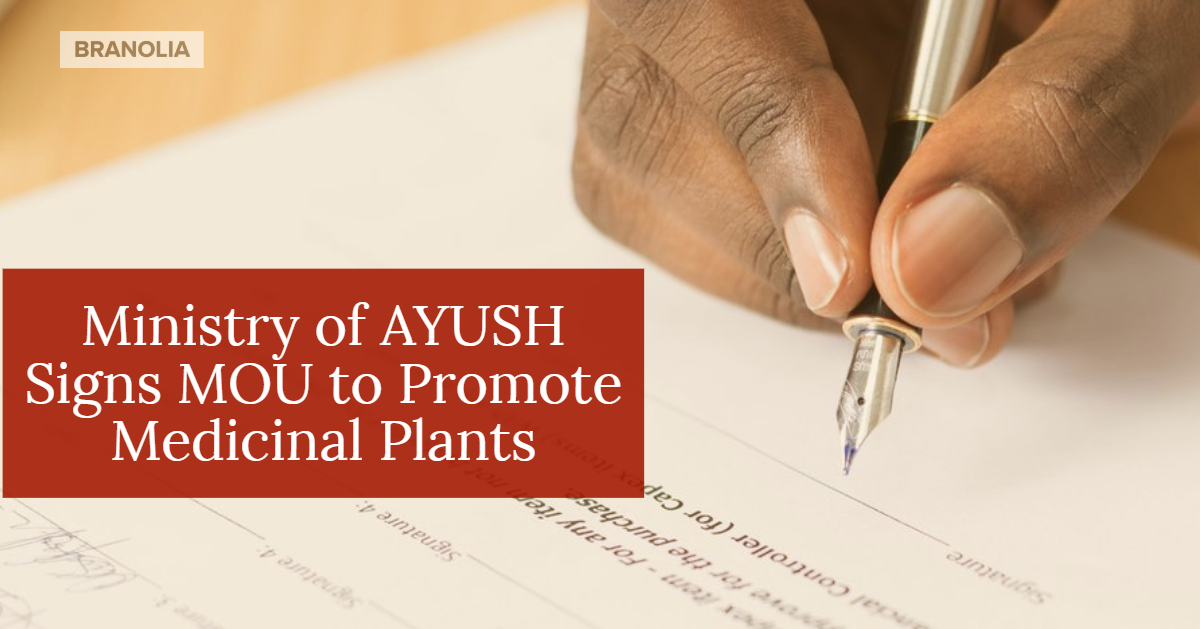 The National Medicinal Plants Board (NMPB), Ministry of AYUSH, in order to address the scarcity in the supply of medicinal herbs has signed an MOU (Memorandum of Understanding) with the Tribal Cooperative Marketing Development Federation of India Ltd. (TRIFED) recently. The main purpose behind the signing of the MoU is to stimulate the production of medicinal herbs in the tribal areas. This will have a dual benefit of promoting livelihood among the tribal people along with the increased production of good quality medicinal herbs.
The main activities that the MoU envisages on promoting are:
Identification of new medicinal plants that are grown in the tribal areas.
To encourage and endorse skill up gradation and capacity building for the gatherers.
The SHGs functioning under the Van Dhan Vikas  Kendra will receive the necessary financial assistance and hand-holding to help them grow good quality Medicinal and Aromatic Plants (MAPs). Training and awareness building exercises will be conducted on Good Agricultural Practices (GAP) & Good Field Collection Practices (GFCP). The  Van-Dhan Vikas Kendra promote medicinal herbal gardens.
A research and testing center will be established based on standards laid down in consultation with NMPB,Ministry of AYUSH where further studies on potential medicinal plants can be undertaken.
Establishing a supply chain system for Minor Forest Produce to generate employment and help the local people get suitable compensation for their produce.
The usage of herbs to treat ailments has been in vogue since time immemorial. Traditional medicines have evolved from the knowledge, skills, and practices that were solely dependent on the availability of herbs locally. It has been observed in recent times with population rise, insufficient availability of drugs and rising cost of treatment has led to a growing trend in the use of ayurvedic medicinal herbs as a source of medicine for a variety of human ailments. The biggest challenge that the ayurvedic industry is facing currently is the scarcity of good quality medicinal herbs. This MOU will transfer the onus to tribals who have an intimate knowledge of the forests and collect forest produce to help both in conservation and increase the availability of medicinal plants through improved collection methods. It is also felt that the MOU will help indigenous people to become cultivators of medicinal plants through medicinal plant gardens.
We at  Branolia Chemical Works believe that this MoU will act as an important enabler in making medicinal plants available to the Ayurvedic industry and go a long way in making Indian system of medicine a mainstay in Indian health system.
We at Branolia Chemical Works have constantly strived to bring quality products to the masses at prices that are pocket-friendly. Ayurvedic formulations using medicinal herbs like Kulekhara, Ashwagandha, Brahmi, Vasak, Pipul, Jasthimadhu, Kalmegh is being successfully manufactured by Branolia Chemical Works for the past 95 years and address health problems like anemia, constipation, jaundice, loss of appetite, indigestion, flatulence, dyspepsia, congested liver, enlarged liver etc.
[supsystic-social-sharing id="1"]